VIVID - The Beauty of Things Tickets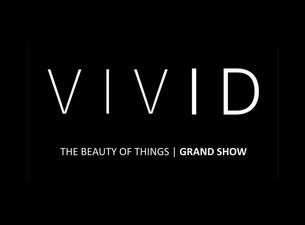 Vivid, ist die neue Show des Friedrichstadt Palastes. Schon die letzte Show "The One Grand Show" war ein Spektakel und an Farben und Tänzen kaum zu überbieten. Doch die neue Show des Berliner Theaters zeigt das schillernde Theater aus einer anderen, moderneren Perspektive.

Es geht um die Androidin R'eye, die dazu programmiert ist, die ihr aufgetragenen Befehle auszuführen. Ihr Leben ist geprägt durch die Fremdsteuerung, bis eines Tages etwas passiert und sie die Welt mit den Augen eines Kindes sieht. Plötzlich wird aus dem tristen Leben des programmierten Mädchens, ein Dasein voller Farbe und Freiheit.

Der Friedrichstadt Palast zeigt mit seiner neuen Show ein Science-Fiction Kunststück, von einer neu entdeckten Identität und sinnlichen Reise. Mit mehr als zwölf Millionen Euro, ist es die bislang teuerste Produktion des Friedrichstadt Palastes. Vivid Tickets gibt es bei Ticketmaster.
95 Veranstaltung(en) für VIVID - The Beauty of Things
95 Veranstaltungen
Veranstaltungen in

Deutschland

(95)
V I V I D - The Beauty of Things

Do

19:30
V I V I D - The Beauty of Things

Sa

19:30
V I V I D - The Beauty of Things

So

15:30
V I V I D - The Beauty of Things

So

19:30
V I V I D - The Beauty of Things

Mi

19:30
V I V I D - The Beauty of Things

Fr

19:30
V I V I D - The Beauty of Things

Sa

15:30
V I V I D - The Beauty of Things

Sa

19:30
V I V I D - The Beauty of Things

So

15:30
V I V I D - The Beauty of Things

So

19:30
V I V I D - The Beauty of Things

Di

19:30
V I V I D - The Beauty of Things

Fr

19:30
V I V I D - The Beauty of Things

Sa

15:30
V I V I D - The Beauty of Things

Sa

19:30
V I V I D - The Beauty of Things

So

19:30
V I V I D - The Beauty of Things

Di

19:30
V I V I D - The Beauty of Things

Do

19:30
V I V I D - The Beauty of Things

Fr

19:30
V I V I D - The Beauty of Things

Sa

15:30
V I V I D - The Beauty of Things

Sa

19:30