Kunst!Rasen Bonn/Gronau Tickets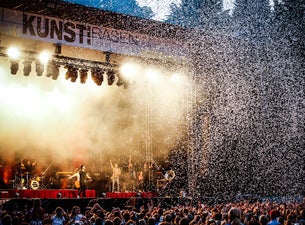 Das Kunst!Rasen Festival geht 2018 in eine neue Runde. Bisher bestätigt sind bereits Freundeskreis, LaBrassBanda, Querbeat und Wincent Weiss. Kunst!Rasen Tickets sind bei Ticketmaster erhältlich.

Seit einigen Jahren gibt es jetzt den Kunst!Rasen in Bonn, das Open-Air-Gelände im Grünen, direkt am Rhein gelegen. Innerhalb kürzester Zeit hat sich das Gelände als erste Adresse für Künstler und Besucher etabliert.

Schon in den vergangenen Jahren konnten folgende Acts das Publikum begeistern:
Lou Reed, Bob Dylan, Jan Delay, Cro, Sunrise Avenue, ZAZ, Caro Emerald, Santana, BAP, Deep Purple, Santiano, Chicago, Simple Minds, Unheilig, Parov Stelar Band, The BossHoss, Adel Tawil, Revolverheld, Max Herre, Sido, Sportfreunde Stiller, Jan Delay, Element of Crime, Frank Turner und Chris De Burgh.
15 Veranstaltung(en) für Kunst!Rasen Bonn/Gronau
15 Veranstaltungen
Veranstaltungen in

Deutschland

(15)