Jeff Lynne's ELO Tickets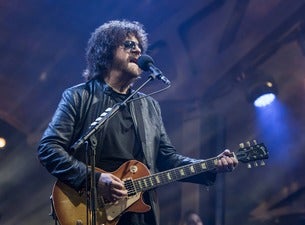 Jeff Lynne zählt zu den profiliertesten Musikern und Produzenten der Musikbranche.
Er spielte für The Move und Traveling Wilburys. Als Produzent ist sein Name mit Tom Petty, Randy Newman, Roy Orbison, The Beatles und Aerosmith verbunden.
Berühmt wurde Lynne jedoch als Gründungsmitglied, Multiinstrumentalist und kreativer Kopf von "ELO", dem Electric Light Orchestra, das Klassik, Toneffekte und Rockmusik in den 70er und 80er Jahren zu einem völlig neuen Sound miteinander verband.
Fast alles Songs von ELO stammten aus seiner Feder.
Aber auch Kinomusik wie "Wild Times" für den blockbuster "Robin Hood" sind von ihm. Zuletzt produzierte er für Bryan Adams das Album "Get Up".
Jeff Lynne's ELO Tickets sind bei Ticketmaster erhältlich.
43 Veranstaltung(en) für Jeff Lynne's ELO
43 Veranstaltungen
Veranstaltungen in

Deutschland

(22)
Jeff Lynne's ELO

Di

20:00
Jeff Lynne's ELO | Platin Tickets

Di

20:00
Jeff Lynne's ELO | Premium Package

Di

20:00
Jeff Lynne's ELO | Ultimate VIP Package

Di

20:00
Jeff Lynne's ELO | VIP Gold Package

Di

20:00
Jeff Lynne's ELO | VIP Silver Package

Di

20:00
Jeff Lynne's ELO

Mi

20:00
Jeff Lynne's ELO | Platin Tickets

Mi

20:00
Jeff Lynne's ELO | Premium Seat

Mi

20:00
Jeff Lynne's ELO | Ultimate VIP Package

Mi

20:00
Jeff Lynne's ELO | VIP Gold Package

Mi

20:00
Jeff Lynne's ELO | VIP Silver Package

Mi

20:00
Jeff Lynne's ELO

Fr

20:00
Jeff Lynne's ELO | Platin Tickets

Fr

20:00

Eingeschränkte Verfügbarkeit

Tickets
Jeff Lynne's ELO | Ultimate VIP Package

Fr

20:00
Jeff Lynne's ELO | VIP Gold Package

Fr

20:00
Jeff Lynne's ELO | VIP Silver Package

Fr

20:00
Jeff Lynne's ELO

Di

20:00
Jeff Lynne's ELO | Platin Tickets

Di

20:00
Jeff Lynne's ELO | Ultimate VIP Package

Di

20:00