Game Of Thrones Live Concert Experience
Game Of Thrones Live Concert Experience Tickets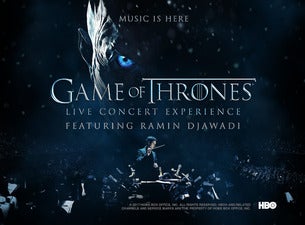 Game of Thrones Live Concert Experience mit Ramin Djawadi kommt 2018 nach Europa. Mit modernster Technik führt die Show, die auf die mit Emmys ausgezeichnete Serie basiert, durch die sieben Königreiche. Fans der Serie können sich auf ein aufwändig produziertes Showerlebnis freuen.

Der berühmte Komponist Ramin Djawadi wird die Show live dirigieren. Unterstützt wird das Orchester von einem Chor, der die Musik aus allen Staffeln der legendären HBO-Serie performt. Kombiniert wird das Ganze mit einem einzigartigen Bühnenbild und faszinierenden visuellen Effekten, die sich dank hochmoderner Videotechnik umsetzen lassen.

Die Idee zur Game of Thrones Live Concert Experience entstand schon vor einigen Jahren. Für den Komponisten ging mit der Umsetzung ein Traum in Erfüllung. Durch die Show wird die Handlung der Serie zum Leben erweckt. Die Songs wurden präzise zusammengestellt und thematisieren Momenten zwischen Lieblingsfiguren aus der Serie, Kampfszenen und hauchen den Büchern von George R. R. Martin Leben ein.

Für Fans der Serie Game of Thrones ist diese Show ein Muss. Game of Thrones Live Concert Experience Tickets gibt es bei Ticketmaster.
62 Veranstaltung(en) für Game Of Thrones Live Concert Experience
62 Veranstaltungen
Veranstaltungen in

Deutschland

(29)
Game of Thrones Live Concert Experience

Mo

20:00
Game of Thrones Live Concert Experience | Dragonstone Package

Mo

20:00
Game of Thrones Live Concert Experience | Kings Landing Package

Mo

20:00
Game of Thrones Live Concert Experience | Winterfell Package

Mo

20:00
Game of Thrones | All-In Premium Package

Mo

20:00
Game of Thrones | Premium Seat

Mo

20:00
Game of Thrones Live Concert Experience | Platin Tickets

Mo

20:01
Game of Thrones Live Concert Experience

Di

20:00
Game of Thrones Live Concert Experience | Dragonstone Package

Di

20:00
Game of Thrones Live Concert Experience | Kings Landing Package

Di

20:00
Game of Thrones Live Concert Experience | Winterfell Package

Di

20:00
Game of Thrones | Premium Package

Di

20:00
Game of Thrones Live Concert Experience | Platin Tickets

Di

20:01
Game of Thrones Live Concert Experience

Mo

20:00
Game of Thrones Live Concert Experience | Dragonstone Package

Mo

20:00
Game of Thrones Live Concert Experience | Kings Landing Package

Mo

20:00
Game of Thrones Live Concert Experience | Winterfell Package

Mo

20:00
Game of Thrones Live Concert Experience | Platin Tickets

Mo

20:01
Game of Thrones Live Concert Experience

Do

20:00
Game of Thrones Live Concert Experience | Dragonstone Package

Do

20:00