Bilder einer Ausstellung - the sandpictures of the great artists
Bilder einer Ausstellung - the sandpictures of the great artists Tickets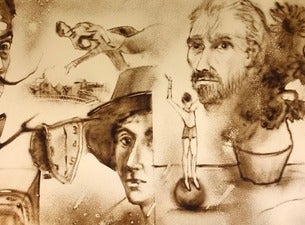 "Bilder einer Ausstellung – the sandstory of great artists" präsentiert die Kunstwerke der bekanntesten Maler der Welt in einer ganz neuen Art: aus Sand.

Die Malereien von Vincent van Gogh, Pablo Picasso, Marc Chagall oder Salvador Dali werden mit Sandkörnern, Licht und Schatten nachgestellt und bilden ein beeindruckendes neues Kunstwerk.

Die Live-Kunstwerke entfalten auf der Bühne ihre eigene Dynamik, so zerbrechlich und kurzlebig werden die Kunstwerke dargestellt. Nicht nur Kunst-Kenner fasziniert die Darstellung der Bilder berühmter Künstler auf der Theaterbühne.

"Bilder einer Ausstellung – the sandpictures of great artists" Tickets gibt es bei Ticketmaster.
9 Veranstaltung(en) für Bilder einer Ausstellung - the sandpictures of the great artists
9 Veranstaltungen
Veranstaltungen in

Deutschland

(9)
Sandtheater: Bilder einer Ausstellung - the sandpictures of the great

So

16:00
Sandtheater: Bilder einer Ausstellung - the sandpictures of the great

Sa

20:00
Sandtheater: Bilder einer Ausstellung - the sandpictures of the great

Sa

16:00
Sandtheater: Bilder einer Ausstellung - the sandpictures of the great

So

16:00
Sandtheater: Bilder einer Ausstellung - the sandpictures of the great

So

16:00
Sandtheater: Bilder einer Ausstellung - the sandpictures of the great

So

16:00
Sandtheater: Bilder einer Ausstellung - the sandpictures of the great

Sa

16:00
Sandtheater: Bilder einer Ausstellung - the sandpictures of the great

So

16:00
Sandtheater: Bilder einer Ausstellung - the sandpictures of the great

Sa

20:00