Wireless Germany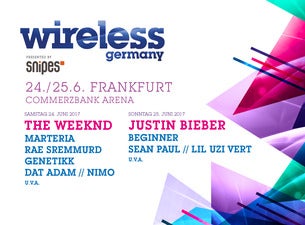 Das legendäre Wireless Festival feiert 2017 seine Premiere in Deutschland. Das Wireless Germany wird am 24. und 25. Juni 2017 in der Commerzbank-Arena in Frankfurt stattfinden und viele hochkarätige Musik-Acts in die Mainmetropole holen. Wireless Germany Tickets sind bei Ticketmaster erhältlich.
Das Wireless Festival holt seit 2005 jährlich internationale Top-Stars nach London und diesen Anspruch hat das beliebte Festival auch in Deutschland. Und die ersten Bestätigungen sind wahrlich sehenswert und versprechen eine wahnsinnig gute Sommerparty. Als Headliner werden die beiden Superstars The Weeknd und Justin Bieber in der Commerzbank-Arena auftreten und auch die weiteren Acts können sich sehen lassen.
Wireless Germany
Line-up 2017
Sa, 24.06.17
The Weeknd
, Marteria,
Rag'n'Bone Man
, Rae Sremmurd,
Genetikk
, Dat Adam, Nimo
So, 25.06.17
Justin Bieber
,
Beginner
,
Travis Scott
,
Sean Paul
, Lil Uzi Vert
Für The Weeknd und Justin Bieber werden die Auftritte die ersten auf einem Festival in Deutschland werden. Weitere Künstler aus dem Urban-, Hip-Hop-, R&B- und Popgenre werden in Kürze folgen und bekanntgegeben.
10 Veranstaltung(en) für Wireless Germany
10 Veranstaltungen
Veranstaltungen in

Deutschland

(10)
Wireless Germany | Festival Ticket - 2 Tage (24.-25. Juni 2017)
Wireless Germany | Festival Ticket - 2 Tage | VIP Ticket
Wireless Germany | Festival Ticket - 2 Tage | VIP & Travel Package
Wireless Germany | Festival Ticket - 2 Tage | Travel Package
Wireless Germany | Tagesticket Samstag

Sa

15:00
Wireless Germany | VIP Ticket Samstag

Sa

15:01
Wireless Germany | Travel Package Samstag

Sa

15:02
Wireless Germany | Tagesticket Sonntag

So

15:00
Wireless Germany | VIP Ticket Sonntag

So

15:01
Wireless Germany | Travel Package Sonntag

So

15:02