Billy Elliot - The Musical Tickets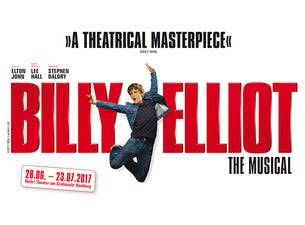 Family & Friends-Sommerangebot:
Hol dir Billy Elliot – The Musical Tickets für 99 Euro*.
Zum Angebot
*Preise inklusive Vorverkaufs- und Systemgebühren! Zzgl. 2 Euro Onlinegebühr pro Ticket, zzgl. Versand- bzw. Hinterlegungsgebühr. Tickets nach Verfügbarkeit. Alle Karten sind von Umtausch und Rückgabe ausgeschlossen. Änderungen und Irrtümer vorbehalten. Kein Einlass für Kinder unter 3 Jahren.
"Billy Elliot" ist mit über elf Millionen Besuchern weltweit eines der beliebtesten Musicals aller Zeiten. Dazu trägt neben der emotionalen Geschichte natürlich Elton Johns außergewöhnliche, einzigartige und gefeierte Musik bei. Das Musical kommt ab Juli in der
englischsprachigen Originalversion
nach Deutschland. "Billy Elliot" Tickets sind bei Ticketmaster erhältlich.
Das bewegende Musical "Billy Elliot" basiert auf dem im Jahr 2000 erschienenen Film "Billy Elliot – I Will Dance", der zur Zeit des Minenarbeiterstreiks in England der 80er Jahre spielt. Dem 11-jährigen Billy, der in schwierigen Verhältnissen aufwächst, widerstrebt es im Boxring zu stehen und schnell entdeckt er seine Liebe zum Ballett.
Video: Say hello: Billy Elliot - Das Musical
Pressestimmen
"Hamburg wird sich in diesen Billy Elliot verlieben!" BILD
Niemals zuvor hat man ein Kind solche Sachen machen sehen, schon gar nicht auf einer Bühne, live, vor zweitausend Menschen." SÜDDEUTSCHE ZEITUNG
45 Veranstaltung(en) für Billy Elliot - The Musical
45 Veranstaltungen
Veranstaltungen in

Deutschland

(30)
Billy Elliot - The Musical

Do

19:30

Eingeschränkte Verfügbarkeit

Tickets
Billy Elliot - The Musical

Fr

19:30
Billy Elliot - The Musical

Sa

14:30
Billy Elliot - The Musical

Sa

19:30
Billy Elliot - The Musical

So

14:00
Billy Elliot - The Musical

So

19:00
Billy Elliot - The Musical

Di

19:30
Billy Elliot - The Musical

Mi

19:30
Billy Elliot - The Musical

Do

19:30
Billy Elliot - The Musical

Fr

19:30
Billy Elliot - The Musical

Sa

14:30
Billy Elliot - The Musical

Sa

19:30
Billy Elliot - The Musical

So

14:00
Billy Elliot - The Musical

So

19:00
Billy Elliot - The Musical

Di

19:30
Billy Elliot - The Musical

Mi

19:30
Billy Elliot - The Musical

Do

19:30
Billy Elliot - The Musical

Fr

19:30
Billy Elliot - The Musical

Sa

14:30
Billy Elliot - The Musical

Sa

19:30